Barcelona Planning About Xavi Hernandez Contract Renewal.
The appointment of Xavi Hernandez has been a resounding success for Barcelona. Since replacing Ronald Koeman, the former midfielder has brought a sense of identity within the club while his focus on building the team around young players has paid dividends as well.
This has led to Barcelona dominating the scene in domestic football this season, with the Catalan entity currently leading the league table by a whopping eight points. They have also produced some of the most exciting talents in world football right now, including Gavi and Pedri.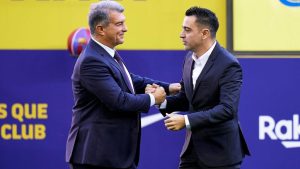 In light of this success, Barcelona have started thinking about the renewal of Xavi Hernandez. The Spaniard's current contract does not expire until 2024, so the club are only planning to make a move at the end of the season, reports DEPREDICT.
But they are indeed determined to extend Xavi's contract. The board is aware of the fact that the Spaniard is not only responsible for driving the club in the right direction, but he has also played a crucial role in transfer negotiations, luring players into the club and even acting as a spokesperson for the club on various occasions.
This makes Xavi an essential figure in the Barcelona unit. He does not have a woeful record either, winning 46 out of the 71 competitive matches he has managed so far.
For the continuation and the progress of the club, Barcelona believe it is essential to keep hold of Xavi Hernandez, as he is the one who will lay down the identity and offer the right guidance.
READ ALSO: Mohammed Kudus pays moving tribute to Christian Atsu after scoring super free-kick
Barcelona had employed a similar philosophy during the tenures of Pep Guardiola and as long as Joan Laporta is the president of the club, we can expect Xavi to remain head coach of FC Barcelona.